Most trusted tree removal service in launceston
Do you have a tree or tree branches that need to be removed? We are the no. 1 company for everything tree removal in Launceston.
Finding a quality tree care service that brings quick, affordable, and safe removal of trees can be difficult, especially when the trees are large or hard to access. Our tree removal service is professional, high quality, and is the answer to your tree removal problems. We can remove any size tree, no matter how big or small, and have the equipment and manpower to remove trees that other local companies couldn't.

Whether it be for risk mitigation and environmental preservation, to property development and renovations, our professional services can extract those obstructive or damaged trees from your property. Trees that have outgrown their space can become dangerous and hazardous to your loved ones and to your property. The removal of these trees is an essential part of keeping your home and community safe and healthy.

Storms are a massive reason for the need of an expert tree removal company. Due to damaged and ageing trees, you could be at risk of trees falling and causing serious harm or damage. It is important to be proactive in safeguarding your home, especially with Australian storms. We offer 24/7 Emergency Tree Removal Services if you ever need a tree removed in an emergency like one fallen on power lines or onto your property.
CLICK TO CALL!
What is the process of removing a tree?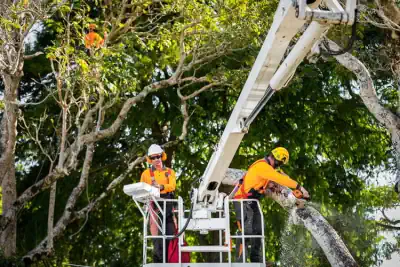 We remove large trees, small trees, and everything in between
Our process is very adaptable depending on the type of tree that has to be removed. Tree's come in many different shapes and sizes, and can oftenly be positioned in hard to access places. This is why you should always choose a tree removal company who has the equipment and manpower to get the job done safely and effectively. 

Whether it be climbing and dismembering the tree, or using a crane to move them out of hard to access spots in your backyard, our assortment of tools, vehicles, and equipment, paired with our experience makes us capable to tackle any challenge.

Our tree removal process typically follows these steps:
Our tree removal team will inspect the site and conduct a safety inspection to identify any nearby obstacles and plan the outcome before the job begins
The dedicated climber will climb the tree, set up his cabling, and get all lines in place
Once everything is set by the climber, they will slowly dismantle the tree piece by piece with a chainsaw, safely lowering each piece to the crew below
These pieces are then removed by the ground grew, wood chipping any of the larger pieces
After all the branches and any invasive parts of the tree have been dismantled, the crew then either continues to dismantle the tree from the top down or, if the space allows for it, fell the entire tree
Every bit of green waste is then disposed of either through the wood chipper or the bin, and removed from the property
The crew do their final clean up of the place and make sure no mess is left behind, leaving it looking better than when we started the job
FREE QUOTE
Top reasons why our customers trust our Launceston tree removal service
Superior service
Our tree service is unmatched with equipment and knowledge that makes us 100% effective.
Remove all sized trees
No matter how big or small the tree is, we have the skills and expertise to remove it.
20 years of removalist experience
With 20 years under our belt, we can tackle any job that is thrown at us.
100% flexibility
Busy? Not a problem. We can do our job even when you aren't home.
Tree removal costs in launceston
What is the cost to remove a tree in Launceston?
There is no one-size fits all answer, since the cost varies depending on the job. Costs of tree removal can range anywhere from $300-$4000 depending on a variety of factors. These factors include the size of the tree, the accessibility of the tree, the type of equipment and heavy machinery needed to disassemble the tree, and manpower needed to cut it down.
Size of the tree
Size is the one of the biggest factors that determines the cost of tree removal. When it comes to removing a large tree, every step of the process becomes more difficult, therefore requiring more cost to complete. To give a rough estimate of the cost of tree removal compared to the size (This is just a rough estimate and prices can vary significantly depending on the other factors involved):
Small Trees (up to 7 meters): $300-$1500
Medium Trees (up to 15 meters): $500-$3000
Large Trees (above 15 meters): $1000-$4000
Species of the tree
Another one of the biggest influences on tree removal pricing is the species of the tree. The species will dictate how hard it is to cut, to remove, to woodchip, and to transport. Some trees, such as date palms, have rough exteriors that make the removal of it hazardous, therefore cost extra to protect our workers.
Accessibility and equipment
If the tree is located in a hard to reach location in your yard, it can mean we need to utilise more equipment and safety precautions to safely cut down the tree. As a general rule of thumb, the more open the area and more accessible the tree is, the cheaper the job will be for you.
FREE QUOTE
Launceston tree removal services frequently asked questions
Questions our tree service customers have asked the most
What time of year is the cheapest for tree removal?
The winter months are statistically the cheapest months for tree removal. These are the months that trees are most "dormant" and have the least amount of leaves for a tree service to cut down. Although winter can be the cheapest months of the year, summer and spring are typically the most popular time of year for tree removal in Launceston due to windy weather and storm season.
Do I need a permit to remove a tree from my property in Launceston?
Tasmanian property owners must put in an application when planning on removing a tree on private land. This application will be assessed by Launceston city council as to whether you need a permit or not. We will help you with the all the necessary steps to getting your tree removed, including council permits and applications.
What is a good reason to remove a tree?
Tree removal is a good idea for property owners who want to avoid potential dangerous tree-related accidents. Removal of hazardous or dead trees should be taken very seriously as it's removal can potentially save tens of thousands of dollars in damages, as well as even save lives. If a tree is sick, bug infested, or diseased, it's removal can prevent damage to its surrounding environment.
What will happen to the stump after tree removal?
After a tree has been cut down, it's stump will no longer grow and it's roots will eventually decay. Over time, the stump will become home to various unwanted pests and fungi which can easily spread to your home and the surrounding environment. How do you get rid of a tree stump after tree removal? We offer stump removal and stump grinding services to completely get rid of the stump from your yard.
Need Tree Removal in Launceston?
CALL US NOW FOR A FREE QUOTE
03 6361 4039
What our customers say about us
We are very proud of how much our customers love our tree services. Every customer is special to us and we enjoy building connections and friendships along the way, whilst also doing what we love.
They were very professional, cleaned up after themselves, and got the job done. Will definitely hire again in the future anytime I need a tree service.
If it wasn't for the Tree Service guys we would have been stuffed after the last big storm. They came out fast and removed a big tree that had fallen on our driveway stopping my car from getting out. I'm glad I chose them and will choose them next time too.
Got in and got out without leaving a mess and did it all very safely.
Fast, easy to work with, and all round top blokes. I have used them multiple times now for different jobs and they never fail to impress me and my wife. I have recommended them to my friends and family.
My trees and bushes are always looking better than everyone in my street because of the tree service guys. I get them to come around every few months to trim them and make them look nice. Bloody professional and always up for a good chat.
We serve all these areas and more! See all
Launceston Locations
.
Dilston, East Launceston, Invermay, Karoola, Kings Meadows, Legana, Mayfield, Mowbray, Newnham, Newstead, Norwood, Prospect, Punchbowl, Ravenswood, Riverside, Rocherlea, South Launceston, St Leonards, Summerhill, Underwood, Waverley, West Launceston, Youngtown.